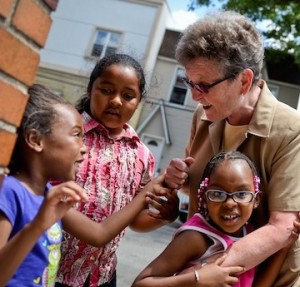 Sister Tesa Fitzgerald is devoted to motherhood. As a nun in the order of Saint Joseph of Brentwood, she lives and works in Queens, running the organization she founded, Hour Children, to serve as a halfway house for women emerging from prison. The mission is to help them become the kind of mothers their children need. Hour Children's services are clustered in Long Island City through a network of apartment buildings and communal homes, thrift stores, a day care center, food pantry, mental health services, job-training, and a home for mothers on parole. Nearly thirty years ago, this 67-year-old embarked on her calling by shuttling children for visits with their imprisoned moms at Bedford Hills Correctional Facility. She has been expanding her organization and her skills ever since. She realized that to help these children most effectively, she had to help their mothers care for them once they got out of prison.
With each passing decade, she gets better at doing just that. Last year, she was able to construct an apartment building with the help of $9 million in public funds. Personally, she keeps none of the money she raises for herself. She eats, sleeps and works under the same roof as former killers, embezzlers, drug dealers, and prostitutes, helping them find a place in the world in order to care for their children.
Last year, after CNN named Sister Tesa one of its "heroes", the Wall Street Journal documented her successful campaign to transform the 8,000 square feet of a defunct nightclub in Queens — Studio 34 — into a thrift shop to benefit the women in her care. Recently, the New York Times profiled her remarkable efforts, located mostly between two of the nation's largest housing projects: Ravenswood and Queensbridge. With her vow of poverty, she essentially owns nothing, wearing and using only what's donated to her organization, and living in the same communal housing offered to everyone she helps. Yet what's fascinating is that Sister Tesa thinks and acts like an entrepreneur. In other words, she's a nun who puts her innovative imagination to work for society's outcasts, offering them renewal and redemption by finding ways to draw money to her mission. Her devotion may be spiritual, but she knows how to run an organization: her thrift shops now collect more than $400,000 in annual revenue.
At Hour Children's website, you'll find the story of Luz De Leon, a woman who emerged after a decade in prison for manslaughter and found a job through the Hour Working Women Program. (The name refers to crucial hours in the life of the children it helps: the hour a mother is arrested, the hour for visitations, the hour of her release, etc.) It assessed De Leon's aptitudes and helped train her with basic computer skills. Once she knew the ins and outs of Microsoft Office, Hour Children gave her a computer. Luz took on responsibilities as a group leader in an advocacy program to prevent domestic violence. Finally, early last year, one of the organization's thrift shops, The Attic, hired her and she rose into a paid role as supervisor at Hour Children's newest thrift shop. Last summer, she moved into her own apartment with the help of New York City Housing Authority's Section 8 provisions.
Tesa Fitzgerald grew up in a poor family of Irish immigrants in Hewlitt, Long Island. She wore thrift-shop clothing, living in circumstances not that far removed from those she helps now. Though women represent only a small proportion of the U.S. prison population, their ranks are substantial: around 100,000 in state and federal prisons, on average. That's six times as many as there were in 1980, according to The New York Times. Most of them are mothers of young kids.
Sister Tesa's skills aren't simply administrative. She's a persuasive, quietly impassioned persuader as well. The Times reports that when one neighborhood opposed the proposal to put a halfway house on their block, Fitzgerald brought two of her women to a board meeting and let them speak about their lives. People in the audience were in tears. The protest fliers came down from buildings and no one raised a voice against the home, after that. She works from 5 a.m. to 7 p.m. every day of the week, including Sundays–occasionally paying a visit to her own family, which includes eight nieces and nephews and 13 grand-nieces and grand-nephews.
Though she's only 67, and I'm now at an age when I can say "only" in that context with sincerity, she's strategizing about how someone else can take over the program in her absence. But that's not her focus. Right now, she's trying to grow Hour Children into the most effective organization possible. She's been thinking of buying the entire block that surrounds her latest apartment building and put it to use. All she needs is$1.7 million. I suspect that doesn't seem like an obstacle to her.
---