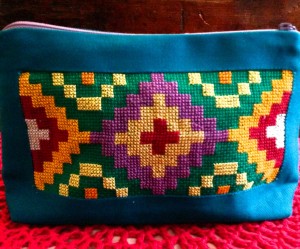 In some ways, the conflict in Syria has been hardest on women. More than 100,000 people have died, and four million have been forced from their homes. Women shoulder a heavy burden. The culture is already a harsh, compulsive environment for them. Often, they are forced into marriages and occupy a role as second-class citizens. The conflict has magnified their hardship. Many have lost their husbands and live where they aren't welcome, sometimes with in-laws. Tens of thousands flee their homes and must find a place to live wherever they can.
Matar is a non-governmental organization devoted to helping a fraction of these displaced Syrian women and children. (In Arabic, Matar means rain, which in the desert climate of Syria is considered a symbol of hope.) It offers women a way to earn money through crafts and helps educate children who otherwise would have no schooling. It's all about—quite literally—stitching back together a sense of community. As of this summer, the group has enrolled only about 80 women who already have skills in embroidery, sewing, crochet, knitting and drawing. According to a Matar post at www.good.is, some of these women can earn as much as $100, which is equivalent to a nurse's salary in Syria. Matar doesn't simply take in women already skilled in these arts, but helps train any willing to learn.  As Matar put it in its statement:
Our organization aims to help repair broken communities and strengthen the position of women within them. People uprooted from their homes find new communities through their collaborations in Matar, and women build both self-esteem and cultural heritage through their work.
Matar reports a strong support from the people of Damascus and other Syrian communities. With enough support, it hopes to create more programs to help children. It hopes to create a model for any troubled region where women and children find themselves neglected or marginalized: "In a way, we're not only providing for families, but also promoting crucial dialogue. Our hope is that we can also inspire troubled areas around the globe—not only to refugees, but also to women in communities with serious gender equality and poverty.
You can support Matar by purchasing what these women have made: handmade purses, pillows, coasters, blankets, card holder, and many other beautiful products.
---