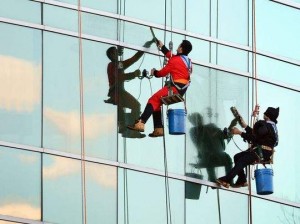 If you look out your window at some point and see Spider Man with a squeegee, doing your windows, there are probably some kids in your building who could use a smile.  A crew of window washers has been dressing up at comic book heroes—Captain America, Spider Man and Batman—and going to children's hospitals around the world to do the windows and bring some magic into the lives of kids who badly needed a pleasant surprise.
"We donned the Spider-Man costumes and we rappelled down the side of the buildings," said Harold Connolly, president of Highrise Window Cleaning of Clearwater, Fla. "We knocked on the glass, waved hello – there were a lot of big smiles." After an appearance at a local children's hospital, team member, John Powers: "One girl just had the biggest smile when I came down and tapped on that window. That's the best part of the day right there."
Online publicity about the program in Florida has gone viral, giving the project a much larger reach. The project is catching on with window-washing companies all over the country, in Chicago, Memphis, Pittsburgh, and many other locations.
The Detroit Free Press reports:
• Le Bonheur Children's Hospital in Memphis, Tenn., has had two visits, one in October from the American National Skyline's superheroes and one in December from elves, says spokesperson Sara Burnett.
• The youngsters at Ministry St. Joseph's Children's Hospital in Marshfield, Wis., got a big surprise in December when Spider-Man, Batman, and Captain America left the place smiling and squeaky clean, says Geoffrey Huys, hospital spokesperson.
• In St. Petersburg, Fla., at least 40 or 50 inpatient children at All Children's Hospital caught a glimpse of Spiderman last month, says hospital spokesperson Roy Adams.
According to the Free Press, the project got its start last July, when Michelle Matuizek, office manager of Allegheny Window Cleaning, Inc., saw pictures of window washers in London dressed as Spiderman.
"I looked around and – at that point – no one had done it in the states," Matuizek says. "I thought why don't we do a character theme for our Children's hospital around Halloween."
So on October 22, the patients at Children's Hospital of Pittsburgh of UPMC had visit from Spider-Man, Batman, Captain American and Superman.
"The kids went wild. They were all over the windows, smiling and screaming – it was just magical," Matuizek says. "The nurses, the kids, the families it was a wonderful experience for everyone. We are going to do it again next October."
---