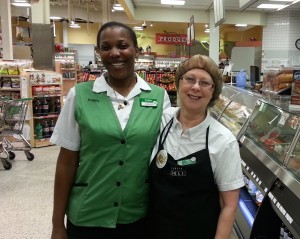 Any snowbird who summers in the Northeast and winters in Florida will, at one point or another, inevitably think one of two things: "Wegmans supermarkets remind me of Publix." Or: "Publix supermarkets remind me of Wegmans." Wegmans has stores throughout New York and in a few locations out of state. Publix serves customers in Florida. I'm not going to adjudicate which is a better at selling groceries, but one thing I know, they're both great examples of how to run an enlightened business. What's the litmus test? The way their employees speak to me.
In both companies, nearly every worker you encounter will ask you what you need, escort you to the aisle where it's located, and offer to do nearly anything to make your experience more pleasant or fruitful than it was a minute before they met you. With either chain, a shopper's experience is the entire focus of the business: selling seems to be the byproduct of a customer's enjoyment of simply being to be back in the store. You doubt this is possible? In a talk-show interview, Alec Baldwin said that when a couple of his brothers tried to persuade his mother to move from Syracuse to California, she refused to live anywhere that didn't have a Wegmans supermarket. If you know what the weather in Syracuse is like compared to, say, Santa Barbara, you'll understand how remarkable that endorsement is. That sort of unreasonable customer loyalty is one of the few ways left for a business to achieve a competitive advantage. A smile and a few friendly words can make all the difference to a balance sheet. We live in an economy that levels the playing field and commodifies nearly everything, from soup to nuts, as it were. Loyalty to Publix runs about as high as customer loyalty can get. In part, it's because if you shop there three or four times, employees may actually recognize you on the fifth visit. If you stop and introduce yourself to a greeter in produce, chances are she will remember your name, or at least your face, the next time you pick up an apple.
In the case of Publix, this kind of exceptional customer service grows out of a sense of ownership through its Employee Stock Ownership Plan (ESOP). With this company, the employees don't just take ownership of their job responsibilities, they actually own Publix. As Forbes summarized it almost a year ago:
"All staffers who have put in 1,000 work hours and a year of employment receive an additional 8.5% of their total pay in the form of Publix stock. (Though private, the board sets the stock price every quarter based on an independent valuation; it's pegged at26.90 now, up nearly 20% already this year.) How rich can employees get? According to Publix, a store manager who has worked at the company for 20 years and earns between100,000 and130,000 likely has300,000 in stock and has received another30,000 in dividends. (A worker's) rate of ownership is based on . . . wages. This encourages the hardest workers . . . giving them a real stake in the company as they labor."
What it also does is leapfrog over the obsession with "short-term shareholder value." Employees need both a continuing salary and the additional profit that derives from their efforts in treating customers like family. If everyone is making the bulk of his or her living at a company, and also owns it, they won't choose to do anything that would boost share price while hurting the longevity of the firm. Which is precisely what happens at so many corporations where professional management comes in and does whatever it takes to raise stock prices, without concern for all stakeholders in the company–and without thinking of the long-term future. Publix definitely has longevity. Founded at the start of the Great Depression, 83 years ago, it's the seventh-largest private company in the U.S., and the largest employee-owned company in America. Last year, Publix was hailed by Forbes as the most profitable grocer in the U.S., with net profit margins of 5.6% in 2012. Those are considerably higher than the industry standard. Forbes quoted Publix CEO Ed Crenshaw last year, "I'm always amazed that more companies don't recognize the power of associate ownership."
In my view it's one of the keys to turning around our lackluster economy. ESOPs are more and more common in business, but many corporations overlook how powerful they can be, combined with strong customer-satisfaction training, for creating lasting customer loyalty. Do you know of any other companies, like Publix, that inspire their workers by giving them an ownership stake? Maybe you or someone in your family works for one. I'd like to hear about it.
---